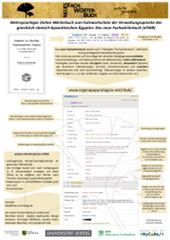 The "multilingual online dictionary of the technical administrative language of Graeco-Roman-Byzantine Egypt" (in short: new Fachwörterbuch (nFWB) ) replaces, updates and extends its known predecessor, Friedrich Preisigke's "Fachwörter des öffentlichen Verwaltungsdienstes Ägyptens: in den griechischen Papyrusurkunden der ptolemäisch-römischen Zeit" which was published more than 100 years ago, in 1915. It displays the lemmata with spelling variants and translations into the languages German, French, English, Italian, Spanish and Arabic. By using an extensive research function it is also possible to sort the lemmata by their subject groups, to perform a full text search and to arrange the search results by different criteria. The new Fachwörterbuch indicates the earliest and the latest record of a word's meaning and links to their full-texts at papyri.info ; it also gives bibliographical references and offers further information concerning the word and its meaning(s).
Here you find information on the structure and use of the new Fachwörterbuch. Please note that the entries marked with a * are only the literal reproduction of the corresponding entry in Preisigkes "Fachwörterbuch". They have not been edited anew, yet. Likewise as for its appearance and functionality this page is still being developed. We would be glad to receive your critical and inspiring opinions and suggestions. Please write to fwb@lists.uni-leipzig.de .
The project is funded by the Sächsisches Staatsministerium für Wissenschaft und Kunst in corporation with the Sächsische Aufbaubank within a programme to support research entitled "Geisteswissenschaftliche Forschung" over a period of 2 years and 11 months (2015 – 2018).